A vicar, a policeman and a football coach walked into a club…
It sounds like the start of a joke but it proved to be the beginning of MTV Youth, Hampton – a local youth project set up in response to concerns raised in the local community over a lack of support for young people and rising anti-social behaviour.
Reverend David Lloyd of St Mary's church, PCSO Marek 'Maz' Regan of the Hampton Safer Neighbourhood team and local youth worker (then football coach) Nick Neilan met in early 2011, united with a deep desire to make a positive difference to the lives of the young people in Hampton, particularly those living in and around the Oldfield road estate.
On a Saturday morning, 12th March they ran their first session at the Oldfield Centre, coaching football to 5 kids from the Oldfield road estate, the 10 footballs having been donated by 10 members of St Mary's church. The football proved very popular and momentum soon gathered leading to the decision to create a youth club on the same site. A committed group of twenty volunteers (aged 16 to 70+ years old) were soon assembled from St Mary's church & the wider community and the church provided the funds necessary to progress the youth work. Dave, Maz and Nick were also particularly delighted to welcome the brilliant Penny Dimond into the MTV Senior Management Team.
​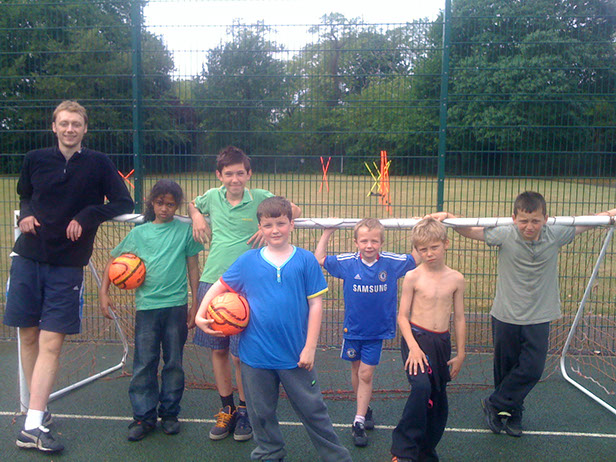 Football coaching with some of 'The Originals'.
On the evening of Friday 28th October 2011, MTV Youth was officially launched…with a Pumpkin Party! Three local councillors were in attendance along with the local police Sergeant (and fortunately the kids came too!) to celebrate the birth of the club and the positive work that had already been achieved through the time & energy of a small, but dedicated group of local people keen to see their community come together & thrive.
Despite not advertising, the club grew rapidly as word of mouth spread amongst the youth. Soon 50-60+ kids were regularly attending each week, enjoying a wide range of activities on offer whether it be football, skateboarding, basketball, arts & crafts, cooking, wide games, treasure hunts or more specialist workshops such as drumming with dustbins, spray art, rapping and water rockets.
Each week new kids joined the club and we were delighted to welcome into the team further volunteers from the local community. A grant from Hampton Fuel Allotment Charity at the turn of the year ensured we could continue the existing work until the Advent term and launch a series of 'extracurricular' small group workshop courses in addition to the Friday night club. Before our first year's end these small groups had enjoyed kayaking, boxing, circuit training & water rockets and generous donations from local businesses enabled the club to go on its first trip that August – paintballing - which is still fondly talked about by the kids 2 years on!
​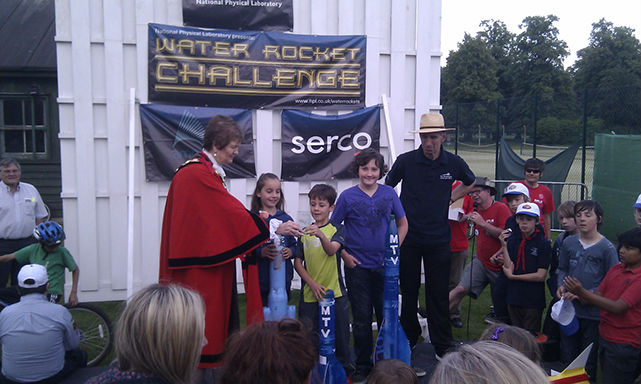 Lucy, Christian and Luke picking up the award for 'Best Engineering' at the NPL Water Rocket Challenge 2012 – MTV Youth's 1st ever award!!!
That summer we also received the great news that St Mary's had been successful in their application to open a free school on the Oldfield Centre site - a decision which also secured the long-term presence of MTV Youth on the land once the necessary building work finished.
In September 2012 we were thrilled to receive a further grant from HFAC which covered the club's core running costs for another academic year. At the same time receipt of a one year grant from Civic Pride enabled us to extend our work with the older youth in the area (16 years+) through the recruitment of Marvin Johnson, a well-respected & much experienced youth worker who had lived on the Oldfield Road Estate for a number of years.
On Friday 19th October 2012, MTV Youth celebrated its 1st birthday at the Oldfield Centre opening its doors to supporters, parents and children alike. The celebration saw many new faces attending for the first time along with then local councillors Darren Thornton and Suzette Nicholson and representatives from the local Police. Guest rappers Simbad Fresh & Jimmy Danger made a welcome return to the club putting on a special performance for the kids and over 110 people joined in with the celebrations as water rockets were let off into the night sky.
​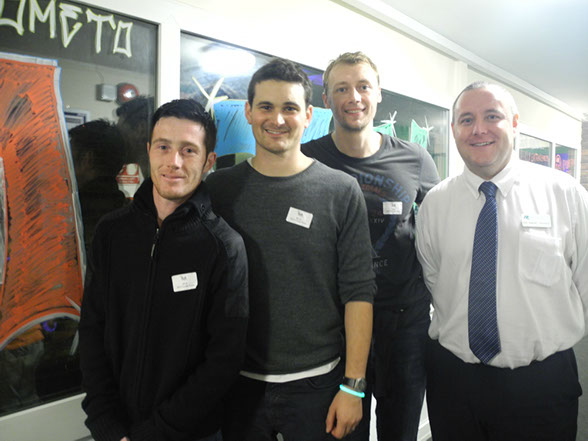 Maz, Dave & Nick with local councillor Darren Thornton.
On Friday 22nd March 2013 the Friday night youth club bade farewell to the Oldfield Centre as we knew it, building work soon to commence in preparation for the opening of St Mary's Hampton CE Primary School in September that year.
​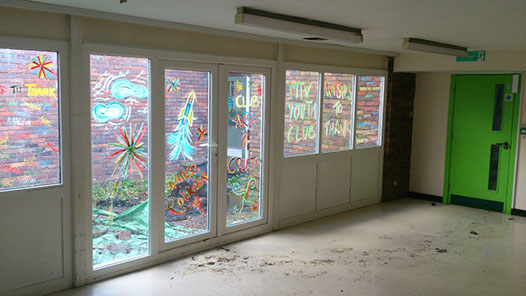 MTV Youth has left the building!
April 2013 proved to be a month of significant change for MTV Youth. Not only did we move to our temporary premises at Linden Hall, we also signed an initial 2 year management agreement with YMCA LSW - a partnership which would enable us to provide a better experience for the young people of Hampton.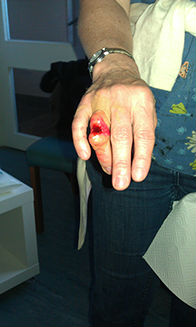 On Friday 4th April, the new term began and with it an influx of new members, particularly younger ones. Whilst we had temporarily lost our superb outdoor facilities at the Oldfield Centre and thus popular activities such as skateboarding, football & basketball, Linden Hall proved to be a great venue to further develop the range of activities on offer to our young people. MTV's 'The Voice', 'Make a film' & 'Gory 1st Aid' all made their debut before the term's end with the latter particularly likely to live long in the memory!
Sadly we had to say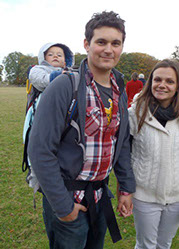 goodbye to David Lloyd in June 2013 as he took up a position as Curate at St Thomas church, Norwich. David was such a integral part of the club and its visionary but our loss was and is very much St Thomas' gain and we are thrilled to continue to hear how well he, Anna, Georgia & Zachary have settled in to their new home and the amazing work that they are doing there.
Meanwhile our recently trialled work programme was going from strength to strength as work experience & employment opportunities were secured for a number of our older youth in local businesses. Special thanks to the Cheese and Wine Company, Chinos, Grade 1, Hallite Seals, Hampton Pool and TJ Parker Electrician.
In February 2013 MTV held its very first fundraising event – a wine tasting evening. Made possible through the incredible efforts of volunteers John, Jenny, Alex and Penny the night was a huge success raising well over £2,000 for the club and a good time was had by all. Significantly the occasion also marked the launch of the MTV Supporters' Club, a move necessary to help ensure the longer term survival of the Club. Spurred on by the cause, volunteers Geoff, Tim, Ian and their friend Damion Jones hit the road in order to raise much needed funds for the Club. 6 weeks later and marshalled supremely by Julian, a fellow volunteer who heads up our fundraising team, they all completed the 8.2 mile Kingston Breakfast Run, raising over £1300 in the process.
​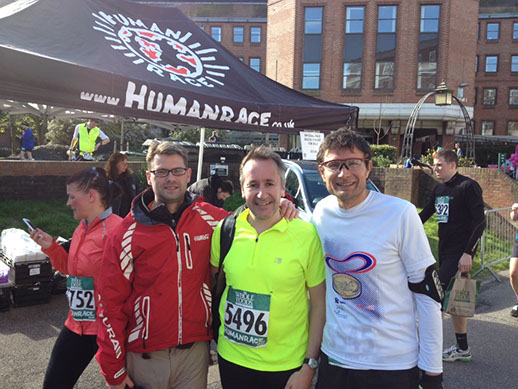 Above: Our marvellous runners Tim, Geoff & Ian having just completed the 2014 Kingston Breakfast Run.
Below: Spacehopping champions Piers & Eleanor who covered an amazing 4,000 metres on the night.
​
In June our young people got involved on the act too with MTV Youth's 10km Spacehopper Challenge! It was a fantastic summer's evening and great to see the children get behind their club.
On Friday 18th July 2014 we marked the end of term with the third MTV Youth Annual Awards. This is a very important night for the youth club as we celebrate the achievements of our young people. The ceremony congratulates the children not only for their skills in activities such as cookery, music, art & sports but also for their improved behaviour, willingness to get involved & for having a great attitude. The night was also significant in marking the end of our temporary stay at Linden Hall.
​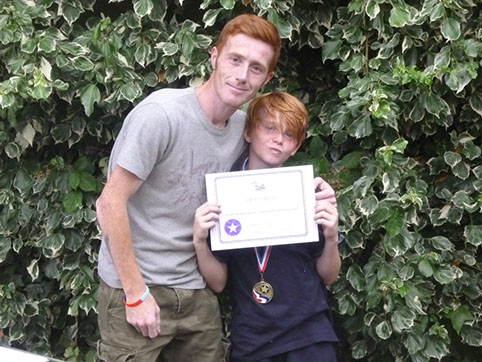 Co-Founder Marek Regan with Reece, winner of the MTV Youth 'More than Tags' award for Best Graffiti Artist 2014.
​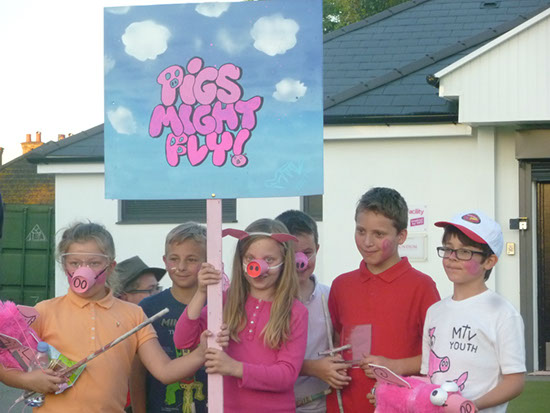 Above: MTV Youth's award winning 'Pigs might fly' entry at the NPL Water Rocket Challenge 2014. They also won MTV Youth's prestigious 'Team of the Year' award for 2014 (below).
​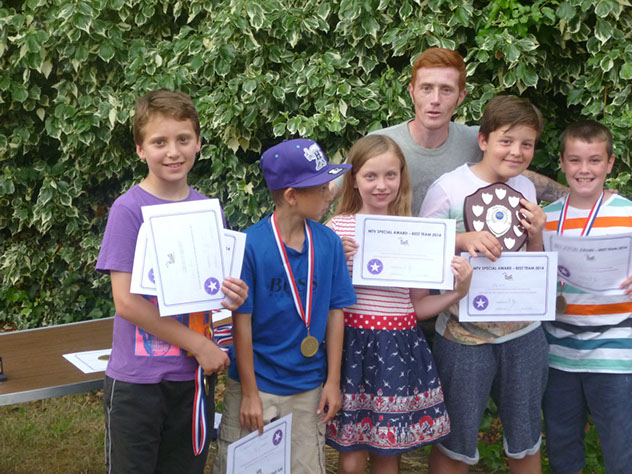 Almost three years on since we first officially launched the Friday night club and having worked with over 300 young people in the process we are excited to announce that we are finally returning 'home' after an 18 month absence!
On Friday 19th September 2014 MTV Youth will once again open its doors on the very site where it all began. Though much has changed since that Saturday morning in March 2011, one thing still remains as strong as ever and that is the desire to see lives transformed…
We hope you can join us on this amazing adventure!
The MTV Team
​